Donabe Smoker
Regular price
₱7,125.00 PHP
Regular price
₱7,500.00 PHP
Sale price
₱7,125.00 PHP
Unit price
per
Sale
Sold out
Ibushi Gin recreates the smoking of food on tabletop. Enjoy the many smoking variations right in your home. Simply place ingredients on the grate and add water in the reservoir to seal the lid to prevent smoke from escaping. By adding a small amount of smoke chips inside, it will add flavor to ingredients once the aroma is sealed.
The glaze of the donabe promotes Far Infrared Rays (FIR) like heat from glowing charcoal with no flame. Food is cooked in 10-30 minutes depending on the size. The large size comes with 3 grates for 3-tiered cooking (up to 4 servings), while the small and mini sizes come with 2 grates for 2-tiered cooking (up to 2-3 servings).
Without the grates, Ibushi Gin can be used as a classic donabe. Since it can be heated without liquid, it is good for roasting sweet potatoes, chicken, and pork. Be aware that using this donabe other than smoking can change the taste of food since the smoked aroma remains. However, it can have a good effect on certain dishes—like curry—adding a smokey flavor.
Suggested Ingredients
Meat— chicken thighs and wings, pork shoulder and belly, beef brisket, sausages
Seafood— tuna, salmon, mackerel, scallop, shrimp, oyster, octopus
Vegetables and mushrooms— asparagus, zucchini, eggplant, onion, sweet corn, bell peppers, broccoli, cauliflower
Others— Boiled eggs, cheese, fish cakes
Smoking Instructions
Line bottom of donabe with aluminum foil.
Put some smoke chips—7-10g for large donabe.
Set ingredients flat on the grate, not overlapping them. Since the bottom of the donabe is hotter, put thicker-cut meat or ingredients at the bottom level grate.
Set on high heat on gas stove.
Once smoke starts to come out from the chips—4-6 minutes—cover with lid.
Fill reservoir with 50% water.
Continue to smoke—6-8 minutes for large donabe, 5-7 minutes for small donabe, 4-5 minutes for mini donabe.
Turn off heat and let it sit with lid for 15-20 minutes—3-4 minutes with mini donabe. Ingredients will continue to cook.
Additional Instructions
Thaw and season ingredients ahead of time.
If the ingredient has high fat/moisture content, place an aluminium foil over the smoke chips. Bend the edges to prevent the fat/moisture from dripping over and to allow the smoke to rise.
During smoking, the water in the reservoir might start to bubble and smoke may appear, which is normal. Allow it to continue cooking. This is the air expanding from the heat inside the donabe and trying to escape. The water in the reservoir traps the smoke and heat.
After cooking, do not move the donabe immediately to a trivet as it may cause the trivet to crack. Ibushi-gin can be extremely hot from dry heating. Let it rest on the stove before serving.
View full details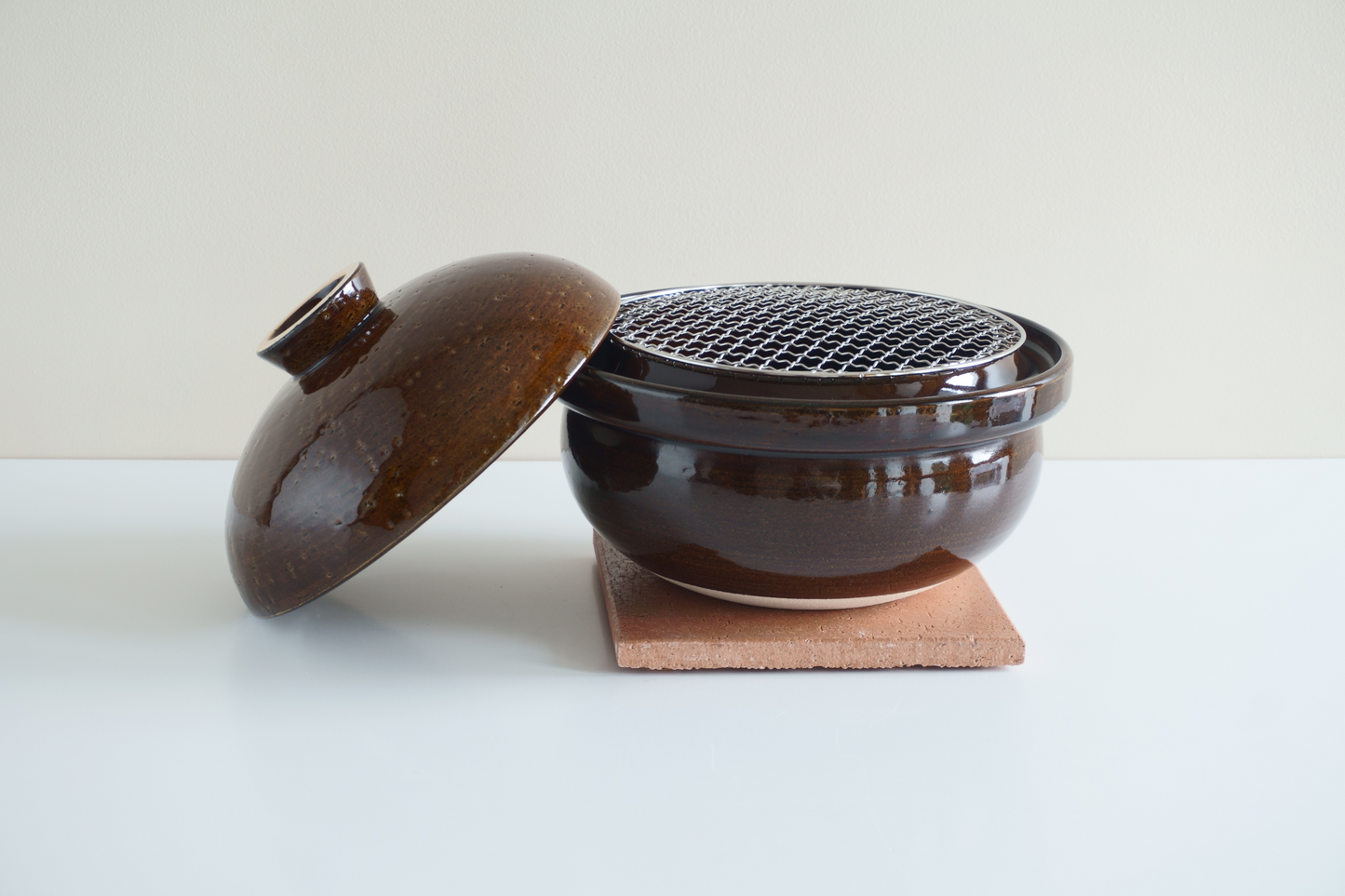 Collapsible content
Details

▷ Measurement
Mini 1-2 servings
Dimension / 19 x 15cm
Capacity / 1000ml
Weight / 1.5kg

Small 2-3 servings
Dimension / 23.5 x 18cm
Capacity / 1200ml
Weight / 3kg

Large 2-4 servings
Dimension / 27.5 x 21cm
Capacity / 2400ml
Weight / 4kg

▷ Material / Clay
▷ Origin / Iga, Mie Prefecture
▷ Producer / Nagatanien
Usage & Care

• Compatible with gas top only—not for electric or induction tops.
• Do not put in microwave.
• Oven-safe (up to 500℉/ 250℃).
• Can be heated while it's empty.
• Hand wash only.
• Seasoning is not required before first use.
Shipping

Free Shipping

Metro Manila / For orders ₱5,000 and up
Luzon / For orders ₱10,000 and up
Visayas, Minandao / For orders ₱15,000 and up

Standard Delivery

Metro Manila / 2-3 days

Luzon / 5-10 days

Visayas / 10-12 days

Mindanao / 10-12 days